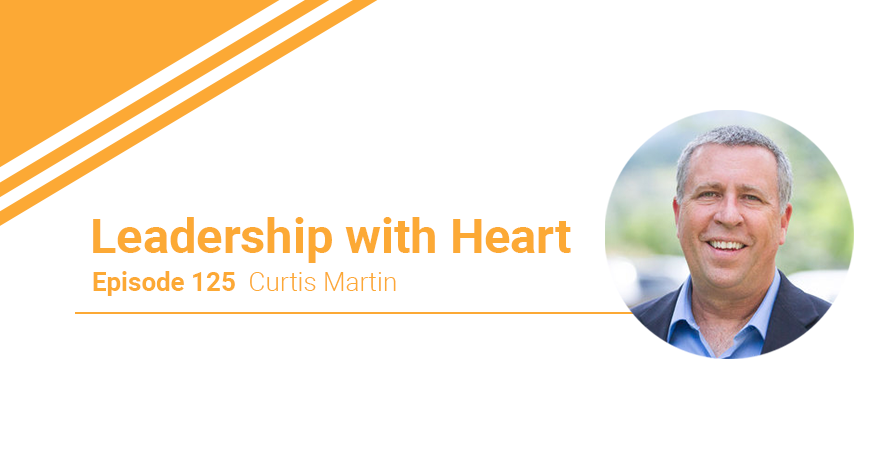 Subscribe to the Leadership with Heart Podcast:
In this episode, Heather interviews Curtis Martin, CEO of FOCUS about his drive to lead, his leadership style, his struggle with patience, and a time when he took his eye off the business and abdicated responsibility.
Key takeaways:
Don't abdicate responsibility but be there to guide people.
Show the balance of care and strength. 
Take the long view when leading so that you can create tension for the long term goal benefits.
Don't miss this insightful episode!
Curtis Martin is the founder and CEO of the Fellowship of Catholic University Students (FOCUS), one of the fastest-growing college outreach apostolates in the Catholic Church. 
FOCUS was founded in 1998 as a national outreach to college students on campus. Starting with just two missionaries on one campus, FOCUS now has hundreds of full-time missionaries serving tens of thousands of college students on campuses throughout the United States. FOCUS is working to play a vital role in the New Evangelization called for by Pope Saint John Paul II. 
Curtis Martin holds a master's degree in theology and is the author of the best-selling book, "Made for More." Curtis is likewise the co-author of "The Real Story: Understanding the Big Picture of the Bible" with Dr. Edward Sri and "Boys to Men: The Transforming Power of Virtue" with Dr. Tim Gray.
In 2004, Curtis and his wife, Michaelann, were awarded the Benemerenti Medal by Pope Saint John Paul II for their outstanding service to the Church.  In 2011, Pope Benedict XVI appointed Curtis as a Consultor to the Pontifical Council of the New Evangelization. Curtis and Michaelann live in Westminster, Colorado. They have been blessed with nine children.
The Prodigal Son
The story that Jesus told of the prodigal son was my life. I was blessed to have parents who love me. The table is set for me. It was a great life, but I wildly squandered it growing up. I was a train wreck when I was 18. I realized that I have only one life and I can live differently. So, I decided to come back to my center and live.

Sometimes people walk through life saying, "I could do whatever I want. I'm not hurting anybody." In truth, you might not be hurting anyone but you are supposed to do something to help people.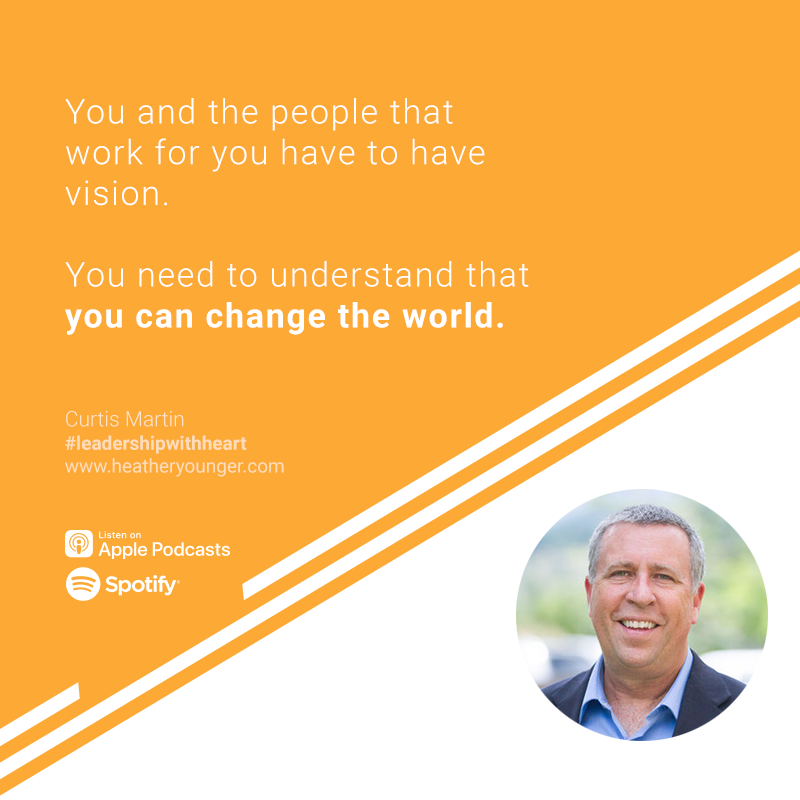 I cannot fix everything. But I can fix something. – Curtis Martin #leadershipwithheart
Click To Tweet
Ripple Effect
The key is create a ripple effect of impact by God's grace—not just setting things better for others, but to teach them how to do it for others whom could also be taught how to do it for their people. 

With this, you're also able to impact people you'll never meet by paying it forward. This is a better way to live life than simply avoiding hurting people.

Some people believe in life after death, and some people don't. But whatever it is, you're done. All you have is a memory, but that memory lives on.

We live in a world with radical poverty. There's breakdown of families, and marriages and children are in need. There are more people in slavery right now than ever in the history of the world, whether it is the typical slavery of work, sex slavery, or drug abuse.

You could spend the rest of your life addressing these issues and making people's lives better, or walk through life hoping not to hurt anyone. I think that the former option, choosing to live for others is such a compelling invitation to form meaning and purpose in people's lives. That's a really exciting way to live and to help other people to live.
People start to come alive when they realize that they could walk through life and set things better. – Curtis Martin #leadershipwithheart
Click To Tweet
Friendship is a wonderful ointment—in the midst of life, you are sharing life. – Curtis Martin #leadershipwithheart
Click To Tweet
On Friendship and Parenting
I've worked to establish friendships with the people that I lead. It's been an honor to not just work with them but also to be invited to weddings and to their homes. You may throw an elbow or step on a toe unintentionally, but friendship is an ointment that heals that wound. I've been blessed to work with great people

Many of us are parents. I am working with a 12 year old, and I have an impatience with parenting. It's a slow walk, and I know they're not going to be living in a mature life overnight. 

My goal is not to be a buddy, but to be a coach. We can be buddies 20 years from now, but I want to be friends with you a million years. So, I do not care whether I lose a little bit of credibility because I take phones away.

As a father, I have to play the long game all the time. Sometimes it's three steps forward, one step back, and that's okay as long as we continue to make progress.  But remember the goal we're aiming for.

We are patient with one another, even in failures because we're willing to lose our battle. This is not a war against people. We aim to win people's minds, hearts, and trust to care for them and help them overcome obstacle that keep them from experiencing lasting joy.
Great vision and great investment covers for impatience and imperfections. – Curtis Martin #leadershipwithheart
Click To Tweet
We're always grateful, but never satisfied. – Curtis Martin #leadershipwithheart
Click To Tweet
---
Mentions
Connect with Curtis through FOCUS
Subscribe, rate and review the podcast on Apple Podcasts
Listen to the podcast on Spotify