Subscribe to the Leadership with Heart Podcast:
In this episode, Heather interviews Lindy Eichenbaum Lent, President and CEO of Rose Community Foundation. Heather realized she had to have Lindy on her Leadership with Heart Podcast after reading an article about Lindy in a magazine. That's how strong her caring leadership abilities are. 
Lindy shares compelling stories and insights into the world of caring leadership. She describes what her drive to lead was born out of and shares a story where she learned a hard leadership lesson. 
Key Takeaways:
Leadership isn't measured by organization or budgetary size. 
Leadership is about leveraging partnerships internally and externally to minimize impact. 
Just do better every day. 
Focus internally on your culture before diving into strategic planning. 
Teams attract best and brightest talent.
Leadership is the opposite of leave no trace. 
Create the space and time to listen. 
We're on this earth for such a short time, why not do as much as we can?
Lindy Eichenbaum Lent's FULL BIO
Lindy Eichenbaum Lent joined Rose Community Foundation as President and CEO in November 2017. Prior to that, she was an executive director of the Civic Center Conservancy. In recognition of her accomplishments, Lent received an Impact Award from the Downtown Denver Partnership in 2017.
Before joining the Civic Center Conservancy, Lent served as then-Denver Mayor John Hickenlooper's communications director – both for his 2003 mayoral campaign and his first four-year term in office. In 2007, she was named senior advisor to the mayor and subsequently served as the City and County of Denver's director of communications for the 2008 Democratic National Convention.
Named a 2012 "Forty Under 40" honoree by the Denver Business Journal, one of the Colorado Women's Chamber of Commerce's "Top 25 Most Powerful Women" of 2016, and a 2017 Denver Business Journal "Thought Leader," Lent serves on the Lowry Redevelopment Authority board of directors, the Colorado Media Project executive committee, and is a member of the Colorado Women's Forum. She previously served on the Denver Preschool Program Advisory Board and the boards of the University of Colorado Cancer Center Fund, the Golden Triangle Creative District and American Jewish Committee's Colorado Chapter.
Lent received her bachelor's degree in political science with honors from Stanford University and her master's degree in journalism from Northwestern University. She and her husband Jason are proud parents of a preschooler and a teenager.
Change-making
At a time when there's so much pain, suffering and uncertainty, to be in a place where we have resources to make a difference and where we cultivate a community of donors who want to invest in the possibility of what could be is a wonderful distraction from the stresses and anxieties we're all facing. Also, we're just so grateful to have these opportunities to try to make a difference. We do "change-making" because there's lots of tools in our toolbox beyond the dollars that were able to branch out.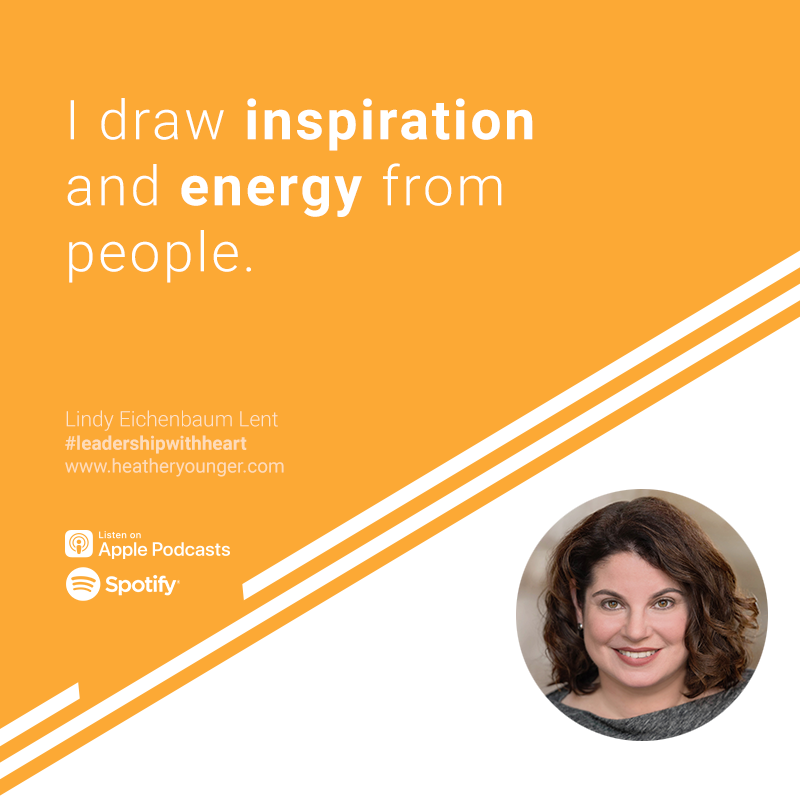 I'm most invigorated when I'm at the bottom of the learning curve: there's new issues to tackle, new relationships to build, and new systems and structures to understand. - Lindy Eichenbaum Lent #leadershipwithheart
Click To Tweet
Maximizing Impact
I always gravitated toward professional roles that had tremendous needs and expectations but very little in the way of roadmaps, budgetary resources or staff. For most of my career, I've had to create compelling shared visions in which I worked to engage potential partners who could be persuaded to invest their time, energy and human and financial resources into advancing a shared goal. So, I come to the Foundation with knowledge and experience that leadership isn't always measured by organizational or budgetary size. It's really about building and leveraging partnerships, both internally and externally, to maximize impact. I had to do that in a space with people who didn't report to me. It really never has been about the reporting but how you work with other people whether they are part of your organization or not, to create a shared vision and to pull the oars in the same direction. I am fortunate to be in an organization that has both financial and human resources. When people are part of the process, it creates buy in and it creates better results. So, how do we get the most talented and diverse group of people around the table to make the best decisions possible? It's really about equipping people with the tools to also move themselves. 
Leadership is learning always. It never ends. - Lindy Eichenbaum Lent #leadershipwithheart
Click To Tweet
I find that leaders who are struggling have forgotten that they're on a learning journey. They're not supposed to have all the answers. - Lindy Eichenbaum Lent #leadershipwithheart
Click To Tweet
Team not Family
The word "team" is important, because when I came to the Foundation, they refer to themselves as a "family". I love my family, but here's the thing with families: they can be inherently dysfunctional, and sometimes can be inherently hierarchical. You don't necessarily choose who's in your family, and it's sometimes hard to get rid of people. With that mindset, it had the potential and it was already breeding some dysfunctional behaviors within the organization. So, I said, "No. No we're not going to be a family. We're going to be a team." Teams attract the best and the brightest. Teams choose to be together and collaborate. When something's not working, you can make adjustments to a team, unlike a family. I really think that our team is truly now a team in every sense of the word. It's been really exciting to be part of that transformation. 
If you can find a way to tap into the joy and the excitement of learning, I think that's a way for leaders to remain dynamic. - Lindy Eichenbaum Lent #leadershipwithheart
Click To Tweet
You've got to put yourself back out there. - Lindy Eichenbaum Lent #leadershipwithheart
Click To Tweet
---
Mentions
Connect with Lindy on LinkedIn
Subscribe, rate and review the podcast on Apple Podcasts
Listen to the podcast on Spotify