Subscribe to the Leadership with Heart Podcast:
In this episode, Heather speaks with John H. Chuang, Founder and CEO of Aquent about his leadership style, a time when he was not the best leader he can be, and some great tips for leaders new and seasoned.
Key takeaways:
It's less important if something is easy. Make it happen; be different.
Focus on people and do the right thing for them always.
Help your people realize their highest potentials.
Make people feel like they are a part of something new and exciting.
Using data is a brilliant way to scale better employee experience.
Prepare your ears for this insightful episode. Thank you for listening.
John H. Chuang's Full Bio
John H. Chuang is the CEO of Aquent. He founded Aquent in 1986 in his Harvard dorm room, and grew into the largest marketing and creative staffing agency in the world. 
Over the course of his career, John has been widely recognized for his entrepreneurial leadership and accomplishments. John's accolades include Boston Business Journal's "40 Under 40," Mass High Tech's "High Tech All-Star," and Ernst and Young's "Entrepreneur of the Year" for New England.
How it started
Aquent didn't start with some master plan.  It started very organically. I was in college with some roommates who are still my partners and shareholders today. We're all working together for 35 years.

We saw an opportunity while working on a student newspaper together. We did desktop publishing for companies in the area and it did really well. Then we thought maybe we can help other companies by sending people. We did well in Boston and we just started opening other offices. That's how we got started.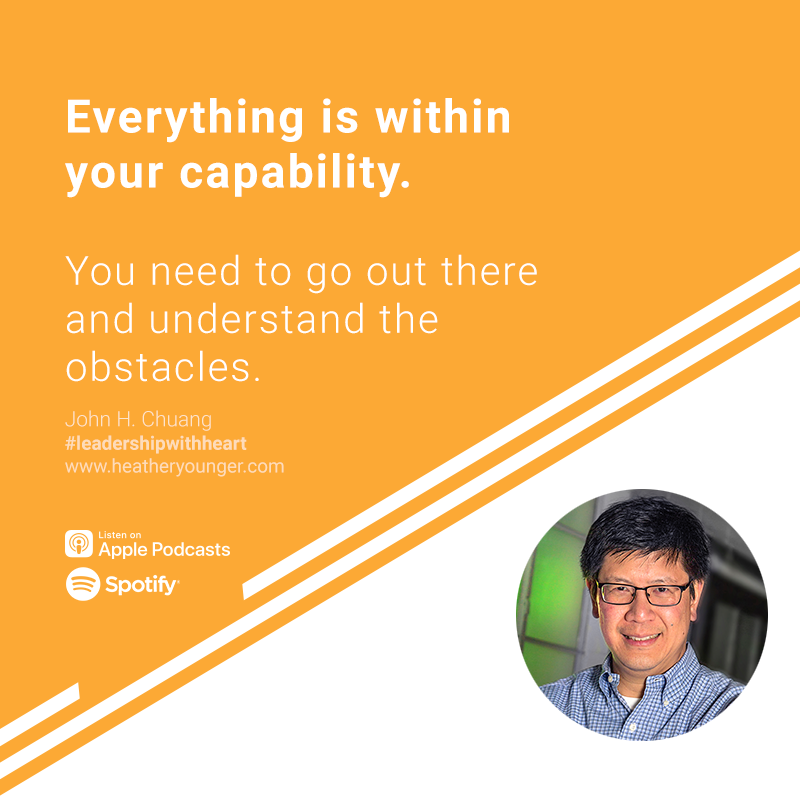 We're always looking to differentiate and to add value. That's how we add value to the world. - John H. Chuang #leadershipwithheart
Click To Tweet
Right Communication
Right communication is so important as a CEO. If you don't like saying the same thing over and over again, you're not going to be a very good CEO. When you communicate and you have 10,000 employees, you're often saying the same thing over and over to a large group. You're talking and writing about it. Nowadays, you're doing videos about it as well.

You're constantly communicating. The CEO needs to emphasize, reemphasize, communicate and over communicate a single message. You're saying the same things over and over, but with a different twist, every time and with as much excitement that you're almost like an actor. This is why actors sometimes become great leaders.

I say something for the hundredth time but I need to say it with as much passion and genuine feeling as I did the very first time. That's what you have to do for the person hearing it as they might be a new employee, or someone hearing it for the first time. That's part of the job requirement as a CEO and a leader.

If the message you're saying is correct, then it will stand the test of time. It will resonate over and over. It also has a reinforcing quality. If the message is actually correct—if it's actually working in the marketplace, that message will resonate.  It will be possible to continue to do it because it's really working.

If it is not working then perhaps you want to shift or change strategy. I believe company strategy changes, but company values do not change.
The message and the values that a company has shouldn't be changing every day. They really need to be grounded and rooted. - John H. Chuang #leadershipwithheart
Click To Tweet
Sometimes, it's people that stop themselves. - John H. Chuang #leadershipwithheart
Click To Tweet
Worthy Accomplishments
There's constant adversity. You have tough competitors that arise in the market. There's lots of change. So, what keeps me going is the self-reinforcing satisfaction that comes from accomplishing worthy tasks. When we accomplish something or achieve something that the world has never been able to accomplish, that's what I live for.

The satisfaction of being able to accomplish something for people drives me and leads me to keep on pushing forward to do more. For example, in 1992 we became the first staffing company to offer full health insurance to all of our temporary workers.

Today, we are one of very few companies and we are definitely the company that offers the very best benefits to our temporary help employees. We're extremely proud of that. During the coronavirus pandemic, we became the first staffing company and first gig economy company to give sick pay to all our employees in all states. Again, it's that satisfaction of being able to accomplish things that are worthy.
You need to be bold enough to take risks and not worry so much about what might happen if someone says no. - John H. Chuang #leadershipwithheart
Click To Tweet
What's great about today's generation is they really care about impact and making a difference. - John H. Chuang #leadershipwithheart
Click To Tweet
---
Mentions
Connect with John and Aquent on LinkedIn
Subscribe, rate and review the podcast on Apple Podcasts
Listen to the podcast on Spotify