Subscribe to the Leadership with Heart Podcast:
In this episode, Heather speaks with Greg Brenner, Assistant Vice President for Talent & Organizational Development (HR) about his leadership style, his great example of when he was not the best version of himself, and some great pearls of wisdom.
Key takeaways:
Figure out how you want to engage with those you lead by being more intentional.
Put people at the center.
Be the grown up in the interactions with your people; take control of your emotions.
Choose whether you cast a shadow or not on those you lead.
Leadership is not a perfection game.
This episode will surely improve your leadership skills. Enjoy!
Greg Brenner's Full Bio
Greg Brenner is the author of the "Smack Dab in the Middle of Life" series. His passions are with all things people. In collaboration with his incredible wife, he has two wonderful kids, a sixteen-year-old son and a thirteen-year-old daughter who make him distinctly qualified to be "the Dad".
At work, Greg supports a wonderful tribe who has taught him to learn, inspire and grow as the Assistant Vice President of Talent and Organizational Development at the fantastic University of Miami and Health System – UHealth.
Greg cherishes the time to write about HR, leadership, and daily life. Thanks to his tribe, colleagues, network, and family, Greg always has plenty of material. Hence, writer's block is never a problem. Some say he can be very funny, sometimes serious, but always authentic.
Greg's specialties include executive coaching, organizational development, listening, strategic planning and thinking, employee experience, culture transformation, human resources, recruiting, hiring, compensation negotiations, employee relations, conflict resolution & interventions, operations, leadership training, and team building.
Getting Better
I have learned a lot of things. I have grown a lot more in the senior level. Now, I'm in a space where you can get some more things done. It's a good place to be. At the same time, it's surrounded with challenges.

Leadership is not for the faint of heart. It is hard. It takes time. You cannot rely on your laurels. You cannot rely on what you did three months ago. It's totally different. You have to shake it up, spit it out, do it all over again, then try to do something new. You have to continually get better, learn and grow as a leader.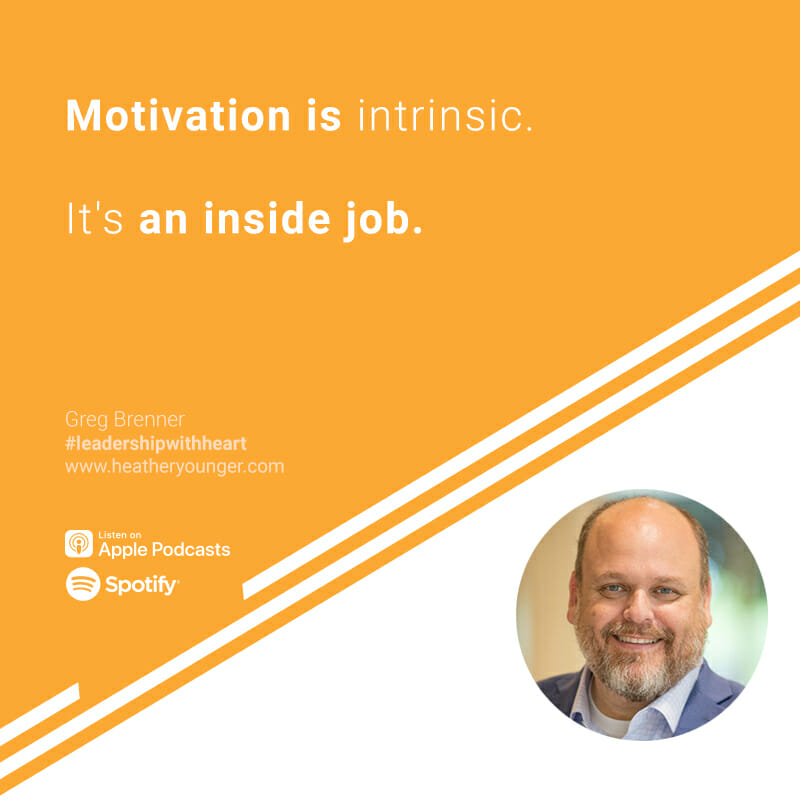 Not everybody is a people-person, and that is perfectly okay. - Greg Brenner #leadershipwithheart
Click To Tweet
Loving the Work
Loyalty, Leadership, and Love. You have to love the work of leadership. You have to love the people. You can say that you don't really love the people you're working with a lot. But you have to love them if you're going to be the difference between someone who is really strong at leadership and one who is just an off-the-chart leader. 

The latter walk in regardless of the fancy shoes they are wearing. You know they're the leader and they've got it all over them. That's because they love the people that are part of the organization and the mission they have.

I am very much a people-oriented person. I am a big picture thinker and I do things with heart. But my style is not for everybody. I allow people to do the job they've been hired to do, and that can rub some people in the wrong way. 

I would rather get ten root canals than work for a micromanager. I am centered at respecting people at their core. But I understand that not everybody is a people person.

Leadership has always been something that is inherent in me. Both my parents, although having different personalities, were so much focused on us being leaders. It was ingrained in our heads. My dad's strength was showing up everyday for his patients. My mom, who worked just as hard as my dad at home, was all about caring for people.
You have a name, and you have to have respect that goes with the name. - Greg Brenner #leadershipwithheart
Click To Tweet
Be a good person. - Greg Brenner #leadershipwithheart
Click To Tweet
Listening to the Lessons
I needed to lead better. People can lead when it's a normal day, every day. The reason why a pilot gets paid so well is not when the plane is flying naturally since it is easy to do. When something does not go right, that's when they earn money. Hence, I have to be a better leader moving forward.

It is about learning from your failing moments. If I would have gone through that moment and allowed that to be okay, I would have been a whole different leader today than I should have or could have been gone down that road—being another disastrous leader just because I didn't listen to the lesson.

You've got to listen to the lessons. Thankfully, I learned my lessons early in my career. I am far from perfect and there's still a lot of not-so-great things that I do. But when you put people at the center of it, it gives a lot of sense.
You cast a shadow on the people you are leading. It's your choice to cast a good shadow or a dark cloud that is going to hang over like an albatross. - Greg Brenner #leadershipwithheart
Click To Tweet
Leadership is difficult. It's not a perfection game. - Greg Brenner #leadershipwithheart
Click To Tweet
---
Mentions
Connect with Greg Brenner on LinkedIn
Subscribe, rate and review the podcast on Apple Podcasts
Listen to the podcast on Spotify