Subscribe to the Leadership with Heart Podcast:
In this episode, Heather interviews Diana Steinhoff, Executive Vice President, Product and Strategy at Life & Absence Management Administrative Solutions. Diana is a leader who does what she loves day in and day out, interacting with people that need help as they navigate difficult life events. Diana has mastered how to be innovative in a difficult space and has infused lots of compassion into her work. 
Heather and Diana both offer examples of when they weren't the most compassionate leaders, but recognized their errors, and took ownership for their actions. Diana elaborates on the skill that's required to master the art of compassion. Many perceive compassion as a virtue of "softness"; but on the contrary, compassion requires courage. Diana explains other necessary qualities of a good leader: authenticity, intentionality, and feedback-oriented (both positive and constructive).
Diana shares a beautiful and heartwarming story of how her mother strengthened the origins of her drive to lead. She then describes the personal challenges she faces as a leader, and the conscious decisions she has to make to better serve her team members. 
While discussing leadership tactics for the current times, Diana calls upon leaders to seek avenues to continue learning, return to the basics of care, and create safe environments where their employees are able to operate, succeed and even fail, because our people are our number one asset. 
Key Takeaways:
People will remember how you made them feel.
Control your emotions and practice empathy.
Bring in the human side, start with the basics of care.
Compassion requires courage.
Leaders must continue to learn.
Create a safe environment for employees.
We need to protect our employees.
We need to engage our employees more.
We need to allow our employees room to make mistakes.
Diana Steinhoff currently serves as the Executive Vice President of Product and Strategy at Life & Absence Management Administrative Solutions.
Diana is an experienced Vice President Of Products and Strategy with a demonstrated history of working in the insurance industry. She is a strong business development professional skilled in Strategy, Communication, Organizational Leadership and product development.
Diana earned her Master's degree in Clinical Psychology at the Nova Southeastern University.
Every Single Day
I get to do what I love every single day. I actually work for an insurance organization and interact with individuals that are going through very difficult life events every single day. It is tough work, but it's rewarding.

We try to innovate in a very difficult space, and to infuse a lot of compassion in what we do on a daily basis. It is really an amazing opportunity for me to be part of this organization and to lead an amazing team of professionals that work alongside us every day to make the world better for individuals who really need it the most.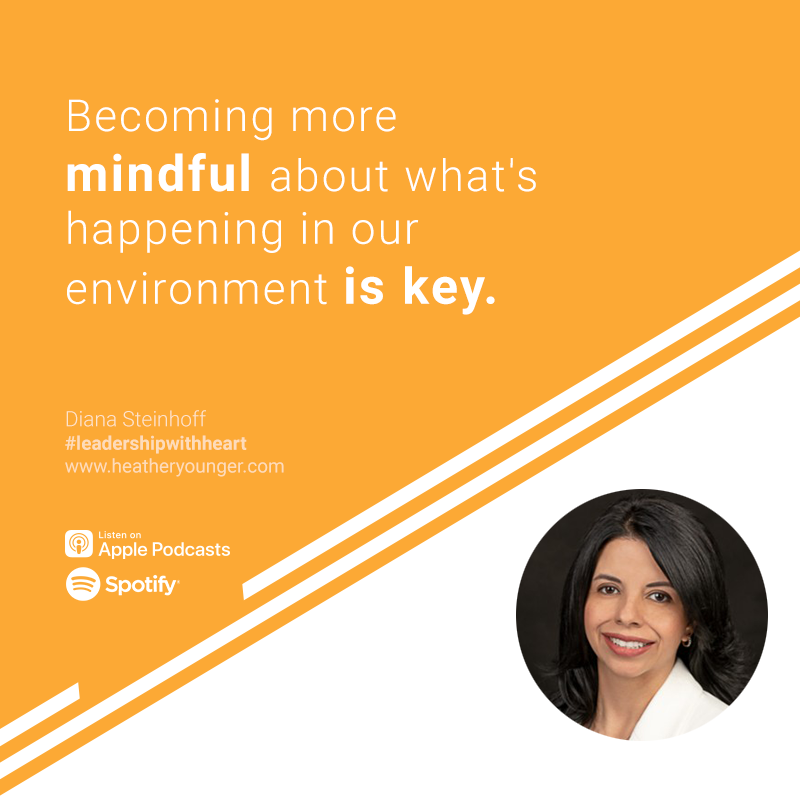 My place in this world is to help individuals. - Diana Steinhoff #leadershipwithheart
Click To Tweet
Nuggets of Compassion
I definitely have a passion for service. So, people feel like they made me mad, but I go, it's not mad. It's that passion coming through coaching that we need to give employees, even when they're making mistakes because I call those nuggets. Those are teaching moments that individuals will always remember. It's okay to bring those out as long as you're not being antagonistic or putting somebody down.

I am authentic. What you see is what you get. I'm always going to be open and honest. But I'm going to do that in a very compassionate manner. I have got to tell you that skill takes a while to hone. It's a craft.  It doesn't just appear to you.

I don't think everybody comes at things in a compassionate manner. When people hear that word, they think of soft. But it's not at all soft because in order to be able to give somebody feedback, you have to have courage, and you have to think through that individual.

Everybody's very different, so I try to really put myself in the other person's shoes to see through their vernacular to be able to apply feedback and coaching every single day.
What people are going to remember is how you made them feel. - Diana Steinhoff #leadershipwithheart
Click To Tweet
As leaders, we always have to create a safe environment for our employees to operate and to be successful. - Diana Steinhoff #leadershipwithheart
Click To Tweet
Positive One to One
My team will tell you that we start conversations very casually, especially now during this time of crisis. One-to-one meetings are definitely different—they have become more personal and more intentional than they used to be. It's really come down to that human factor for everybody.

They would describe me as authentic, compassionate, and definitely feedback-oriented. I think that's something that I drive every single day. Positive and constructive [feedback] is important in a relationship with a team.

There is a way to provide feedback and to even deal with crisis moments—by controlling your emotions through putting yourself in that person's shoes, and giving the point and feedback; but doing it in a way that's not antagonistic and it's not going to hurt somebody's feelings.
Recognize that there is a tremendous level of anxiety and stress right now, and people may not be functioning at 100%. So, giving people the respite to miss or to make mistakes is okay. - Diana Steinhoff #leadershipwithheart
Click To Tweet
We have to protect our number one asset and the only way to do it in a time of crisis is by engaging more by being more intentional and giving them the safe space to make mistakes. - Diana Steinhoff #leadershipwithheart
Click To Tweet
---
Mentions
Connect with Diana on LinkedIn
Subscribe, rate and review the podcast on Apple Podcasts
Listen to the podcast on Spotify