Subscribe to the Leadership with Heart Podcast:
In this episode, Heather Younger speaks with Kelly Moran, Executive Director of the American Cancer Society in Denver. Kelly shares a lot about her leadership style, her philosophy, and the importance of showing up as leaders. She also shares about a time when she was not her best and the key things we can do as leaders to move forward in our current Covid crisis.
Key takeaways:
Our attitude matters at work.
If we want to instill confidence and help others move forward past adversity, we must do it first.
Be your best self.
Look out for others first.
Create safe environments where everyone can bring their best ideas to work.
Check in frequently on your people.
Stay forward focused.
It's high time to brush up your leadership with heart skills. Hope you don't miss this!
Kelly Moran's Full BIO
Kelly Moran is an experienced professional specializing in volunteer engagement, fundraising, community engagement, and event planning.
Her strong skills include volunteer engagement, community engagement, committee development, board development, fundraiser engagement, donor cultivation, corporate partnerships, conflict resolution, event management, strategy development, operational execution, and Microsoft Office.
Kelly values strong teamwork, communication, leadership, management, and problem-solving.
Learning and Doing
As a leader, a lot of times you have to learn while doing. That's why I have that energized feeling of when you know you're learning and growing. If I'm going to fail, I'd rather do it quickly, so I can move on to something else if it doesn't work out.

I always think about what's next. What we're doing right now is clearly important too. But I'm a forward thinker, and I like to think how we're building a thing into something bigger. People would probably describe me as ambitious, and a little bit of a risk taker.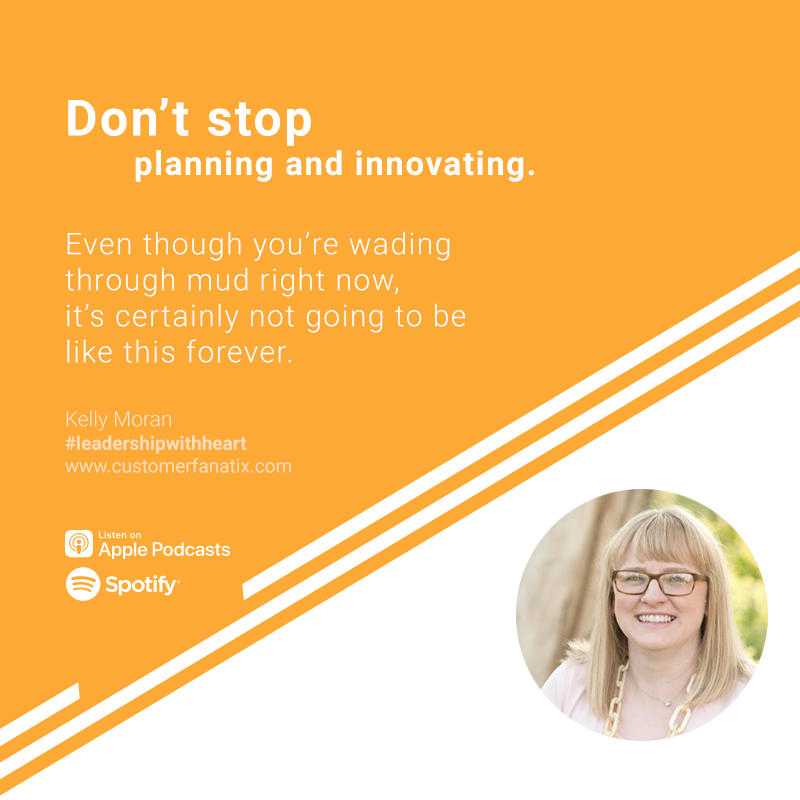 Staying forward-focused is really important. - Kelly Moran #leadershipwithheart Click To Tweet
Shield, Connect, Empower
There are a lot of ideas that come out of my mouth. They're not all winners, and we don't have to implement everything we discussed. But I think having that openness, where it's okay to throw out a bad idea is important. Sometimes someone's bad idea leads to someone else's really good idea. Having the courage to do that is part of being able to innovate.

I get a lot of energy off of connecting with people. I love lots of ideas and the big picture. I'd like to see the full scope of things. I've just always been attracted to those types of positions that are highly interpersonal and highly interconnected. I also enjoy being where it's messy a little bit. It's just led me to positions where you're really connecting with staff throughout the organization.

As a leader, you empower everyone around to be able to bring their best self to work. It's really important to know your attitude, to put oneself in other people's shoes and to manage a stressful day or being under a lot of pressure.

Also, I make sure that stress and pressure do not translate to everyone else. It is something that I've carried on how I want to lead. I want to shield for everyone, not project, when it comes to some of the harder things about a work environment like pressure and stress.
Look forward and don't get too mired down on what's happening right now. - Kelly Moran #leadershipwithheart Click To Tweet
If you put kindness out there, you get kindness back. - Kelly Moran #leadershipwithheart Click To Tweet
Purposeful Communication
When you're at a distance, you like being purposeful about the informal pieces. It's video chat central right now and everyone's doing it. We're seeing kids, dogs, bedrooms, and family rooms, so it's like a whole other level to get to know people. You don't have to get down to business right away.

Something I learned about being purposeful in putting the informal piece in is to always try and start meetings with interesting little questions to get to know each other and have a little chitchat versus getting straight to business.

One of the benefits of an office is you get to see people and there's more presence, even if you're not directly talking to each other every day. But this is a time of high stress and it creates fear for many. So, you have to be purposeful in your communication by checking in on people. A "Hey, how are you doing?" call goes a long way in times like this.
Be your best self, look out for others, and help them as much as they can. - Kelly Moran #leadershipwithheart Click To Tweet
What's really going to define us is how we move forward and continue. - Kelly Moran #leadershipwithheart Click To Tweet
---
Mentions
Connect with Kelly on LinkedIn
Subscribe, rate and review the podcast on Apple Podcast
Listen to the podcast on Spotify