If you've read a book with illustrations, oftentimes the drawings visually play out the storyline in place of reading the text. Similarly, our facial expressions can 'say' a lot about how we feel and what we think before we even have the opportunity to use our words. Our facial expressions impact our conversations positively or negatively, whether we mean for them or not. I am touched by human interaction so deeply that sometimes it hurts to hear someone recount a story and sense their pain or trepidation. You can always see the empathy all over my face, even when I try to hide it. I'll admit - I am a wimp, and I am proud of it! 
I once asked an audience to share their commitments with me on how they plan to be more inclusive and make others feel like they belong at work. Very few piped up. I sensed hesitation and nervousness but was not surprised as this happens a lot. Then, after I exited the stage and walked out into the hall, this beautiful soul approached to tell me about her commitment and what she planned to do to make others feel welcome and special. My heart burst with happiness and softened at the humanity of it at the same time. 
A Picture is Worth a Thousand Words
A photographer happened to capture this moment, and while I have many photos from events, this small subset is a memory I will never forget. It was as if this series of pictures were a flip book, and I could visually see them telling the story of this interaction and all of the emotions it held.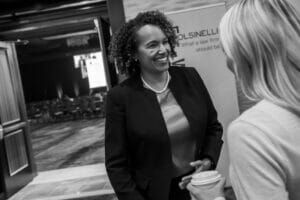 The first photo was of the young lady coming up to me to share her thoughts, and when she did, I welcomed her with a great big smile. You could feel the radiating warmth.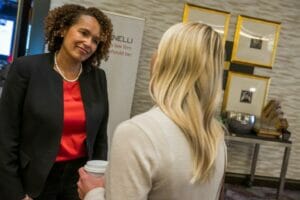 In the second photo, my expression began to change to concern and deep listening as she told me that she was too nervous about coming forth earlier, but wanted to share her commitments and reservations. As I looked back at these pictures, I remember wondering what she perceived from her end. I was hopeful that she would feel the empathy displayed through my facial expressions.
The last photo was my favorite. We hugged each other as she made the commitment to change, and you can see it in my face that I am truly happy about her commitment.
Our Face Tells a Story
The lines and microexpressions displayed on my face were for her to visibly see that I was leaning in to show I cared about her commitment, emotions, and vulnerability. This got me thinking about how I age and how all the years of leaning in to connect and truly listen to others' perspectives has shown.
The lines on our faces become permanent stamps and indicators of how we lived our lives. Maybe you have a lot of anger lines or really big smile marks around your mouth or eyes. Whether it's from squinting or smiling, every line of your face will tell a story. I have my permanent stamps, and I am okay with that. 
I feel like this series of photos represents the human experience and solidifies why I do the work that I do. I feel deeply. I won't hide it. I show it on stages, face to face, behind closed doors, everywhere. It's my gift to myself and others. And I really loved that hug...the photo captured a true connection. Isn't that what we all long for? So, tell me: What story do the lines on your face tell others about your life and how well you leaned in?