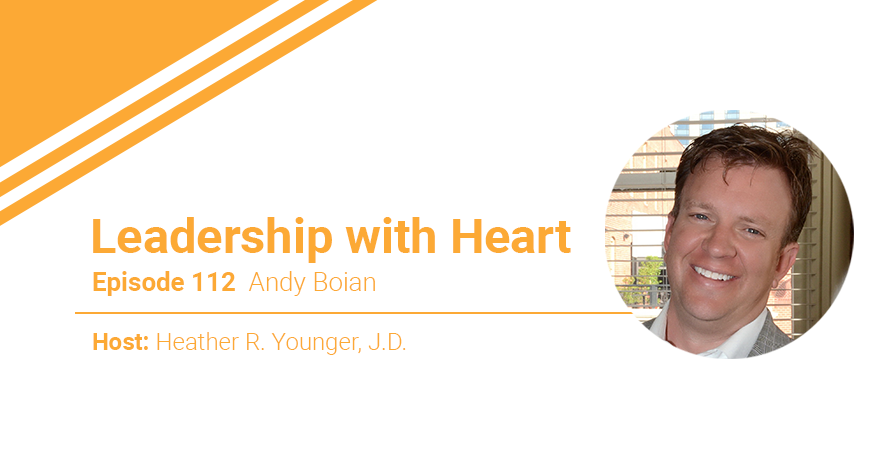 Subscribe to the Leadership with Heart Podcast:
In this episode, Heather Younger speaks with Andy Boian, Founder and CEO of Dovetail Solutions, a PR firm based out of Colorado. Andy shares a touching story of his drive to lead out of adversity, his ideas on a 60-day quick start program for new employees and his reason why he speaks last at meetings.
Key takeaways:
Make sure those you lead feel valued, and that their interests and jobs are valued.

We must give trust before we get it.

Speak last as the leader in the room so you get the benefit of hearing other views and create a psychologically safe space for your people.

If you lead your people first with grace they will give it back to you.

Be compassionate to yourself and know who you are.
Hope you don't miss this gem of an insightful episode. Listen and learn!
Andy Boian, Founder and CEO of Dovetail Solutions, is a natural "connector." His career started in 1991 in political strategy and corporate communications before diving into PR fully. Public Relations Society of America, named his firm the "Public Relations Firm of the Year" recently.
Most recently, he served as chairman of the successful campaign and election of California's 40th and current Governor, Gavin Newsom, and is now an advisor to former Vice President Joe Biden's 2020 presidential campaign.  Additionally, he served on the transition teams for both the nation's forty-second President and a cabinet member of the nation's forty-third President. He has been on the faculty of the University of Denver, the University of Colorado and Arapahoe Community College as well as Metropolitan State University of Denver for over a two decades.
He is a recipient of the Denver Business Journal's "Forty Under 40" award, the Colorado Statesman's "Fifty for the Future" and Metropolitan State University of Denver's "Mover and Shaker" award. Additionally, Andy was recognized by his alma mater as an Alumnus of Distinction in 2011. In 1999, he was asked to run as a Colorado representative of the Democratic National Committee. He served four years at the national level.
Andy is remarkably active in the Denver philanthropic community. He founded ExecConnect, and served as board of the Henry C. Kempe Foundation, and the Denver Botanic Gardens. He is currently a board member of DAPS (Denver Association of Professional Services), BBVA Compass Bank, Turbine Labs, the PIVOT Foundation, and the Denver Scholarship Foundation. He is also a contracted senior political analyst for Denver's Channel 31 Fox television network news.
Equal and Valued
In the early days of my career, it was unique for a guy in his mid-20's to have some insight into treating someone who works with you as an equal and still have the same authority over what they do, how they act, and how they practice.

I've always worked hard to make sure that those who work with me in both professional and non-profit capacities always feel valued. I want them to always feel like their interest and responsibility in the community is valued.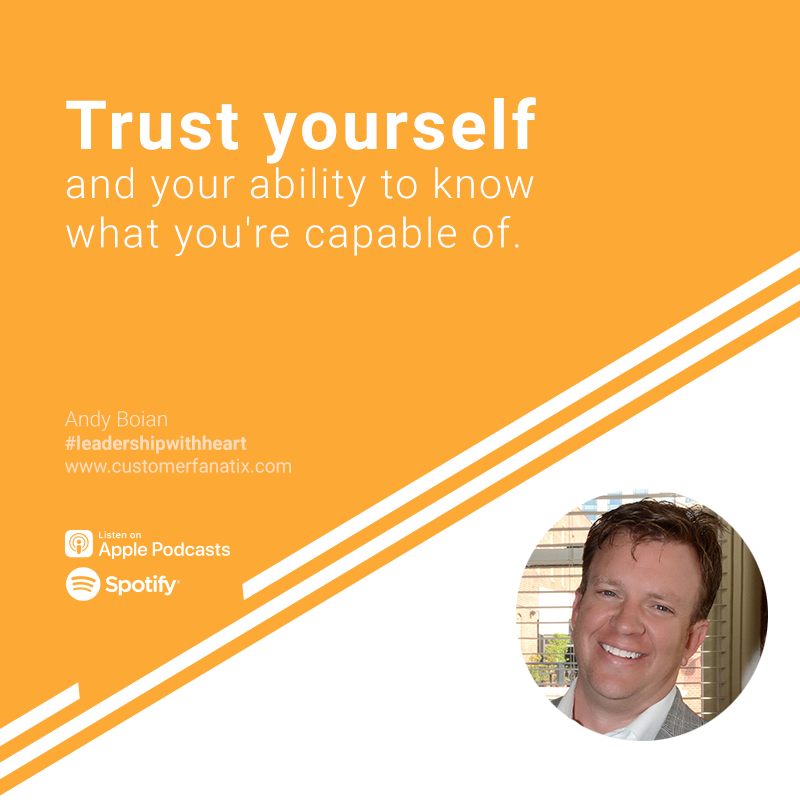 There are no boundaries on how to work things out. – @apb5280 #leadershipwithheart
Click To Tweet
Trusted and Respected
Employee loyalty is not something that just comes with day one on the job. What really has to be a part of the process is gaining that trust and respect by giving it.

The first thing we do right away is a 60-day Quick Start plan with our new employees. We ask for his or her aspirations, which is not about their job roles or company expectations, for the next 60 days.

I am the CEO, the one who writes the checks and does the negotiations. But I find myself more as a part of a team. I am not really somebody who is an authority over anyone, but gives authority with others. I use the word "with" a lot.

I'm not your boss. I'm your colleague. I think the boss-subordinate relationship is backwards. The top-down stuff doesn't make sense to me, and it never did.

Psychological safety is what makes people feel better. We put a lot of effort and time into people who come to work for us and with us up front. If they feel immediately valued, immediately listened, and immediately considered, they're going to want to stay.

We are business of relationships. We may be a public relations firm that deals with the media and talks to the public, but it is so big that it's so much more than that. Especially right now with the pandemic we are going through, clients rely to us now more than ever for things that aren't written down in our scope. But those kinds of things only come up if they trust you.
Be compassionate to yourself. – @apb5280 #leadershipwithheart
Click To Tweet
Think about ways on how you can provide value. – @apb5280 #leadershipwithheart
Click To Tweet
Speak Last
As CEO, I find myself in rooms full of people who work at our firm. I often don't speak until the end. I don't think that leaders, necessarily some of the best leaders I know speak last.

Let's say we have a strategy meeting on a topic, or we're dealing with a difficult client, and we all have come together to talk about how to manage this situation. If I speak first, it defeats the purpose.

I have two reasons why I speak last. First is, I gain the perspective of my people without having to say anything. My people get to voice what they want a voice, and they feel comfortable without any caveat saying what they want to say. I get the benefit of listening to that. Even if I don't necessarily agree, if I think something different or if It goes long, I still listen because they have been willing to open themselves up.

The second reason is, when it is my turn, I want to speak with everybody's thoughts in mind. If I come in with an agenda, I'm not leading. If I listen to what my people have to say but I have already made my decision before coming in, that's not the way to leave. It must be done with everybody's communication in place. I'll speak only after I've had the chance to garner all opinions, and take them into account when determining what CEO's would say in the end.
It's basic to give the employee or the team member assurance that we have their backs. – @apb5280 #leadershipwithheart
Click To Tweet
A critical part of how you treat somebody respectfully is when you do it with heart. – @apb5280 #leadershipwithheart
Click To Tweet
---
Mentions
Connect with Andy on LinkedIn and Twitter
Subscribe, rate and review the podcast on Apple Podcast
Listen to the podcast on Spotif