Subscribe to the Leadership with Heart Podcast:
In this episode, Heather interviews Brian Kelly, People, Leadership, Strategy & Team Development Consultant, Mindset Coach, Speaker, Facilitator, Author, Unleashing Your Human Greatness, Strengthening the
of Business™. Heather has always been impressed by Brian's natural Caring Leadership traits, which is why he is now a Caring Leadership Community Coach. In this episode, Brian opens up about his journey to Caring Leadership and the difficulties he faced along the way.
Besides, Brian was one of the first people Heather saw embracing a leadership style geared towards people-first. Here he shares how he wasn't always this way and is honest about the hard inner-work he had to do to become this better version of himself.
Our society has strict stereotypes of what "masculine" and "feminine" traits are, where Brian believes there is no such thing. He believes that a healthy human has qualities that are both feminine and masculine. Brian states that these traits do not belong to a single-gender – but instead, it is more of a yin-and-yang of both energies.
This idea of masculine and feminine energy is relatively new, but not to Brian. He has been working on reframing his thoughts on masculinity for years. Now he teaches others how to do the same.
Key Takeaways:
Being vulnerable is part of being human.
There is no such thing as feminine and masculine energy.
Vulnerability isn't difficult; it's the negative connotation that we place on it that makes it difficult.
Inner work is more time-demanding and challenging than you think.
Human-centered leadership is Caring Leadership.
The Caring Leadership Community is a safe space to get insightful feedback from coaches like Brian.
Brian Kelly graduated from Boston College with a BA in Business Administration: Finance and Economics. After graduation, he went on to work at Freddie Mac for almost 16 years, where he worked as a Technical Project Manager for 13 years. Brian then went on to be the VP of Marketing and Communications at a non-profit. He's held various positions that put people first, ultimately leading him to where he is now, as the President of Brian Kelly Leadership Coaching.
As a coach, he works with executives, team leaders, and their teams to accelerate their growth and help them create better business results. He has been a coach since August 2013, for almost eight years now. For Brian, good results mean meaningful growth in engagement, teamwork, leadership, productivity, performance diversity, and overall wellness.
Feminine vs. Masculine Energy
I'm not a big fan of the terms "masculine energy," "feminine energy," or "soft skills," I think labeling natural human traits with these labels takes away from the greatness that they bring. When you think about it, Caring Leadership simply means human-centered leadership. Leadership that puts people first. Care is a human trait associated mainly with women, but it's time for that to change. It's about recognizing this type of energy in great leaders, those leaders who show they care. Masculine and feminine energy is not exclusive to genders – all humans have both energies. Society has labeled them to be exclusive when they should be quite the opposite.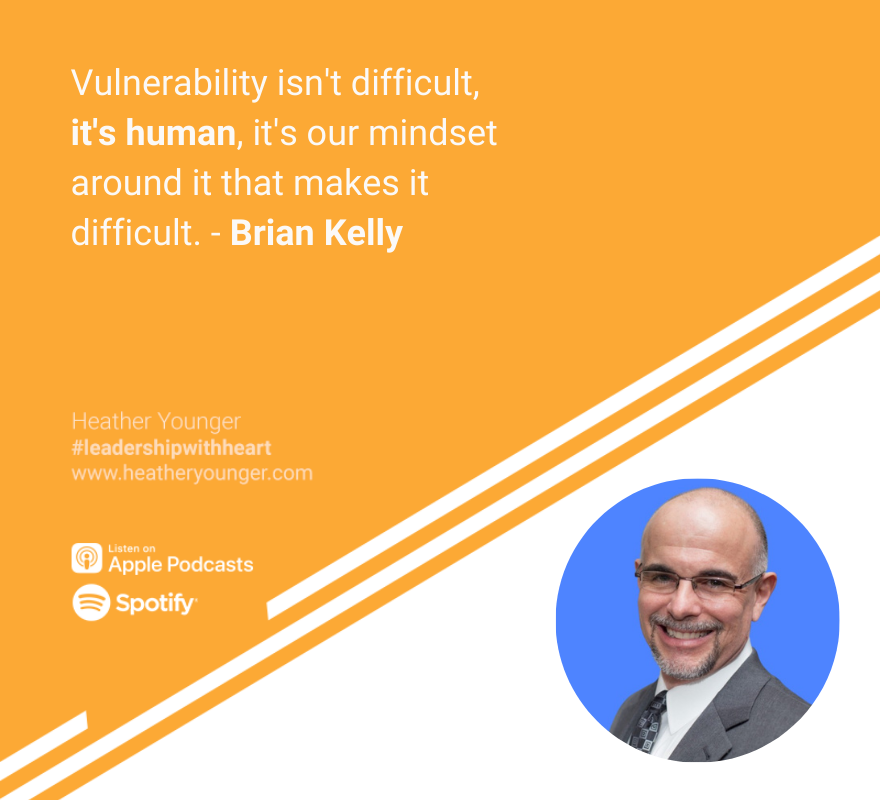 Doing the Inner Work
Years ago, when I began my journey, I could not connect with others and couldn't figure out why. Time went on, and eventually, I had the realization that it was because I was afraid of being vulnerable. I decided I was going to change this and began to do the inner work that was needed. It was much more work than I ever thought. To reframe my ideas, thoughts, and beliefs into ones that would allow for vulnerability to show up took a long time.
But once I did, I remember two classmates came up to me the same day and said, "you look lighter." They weren't talking about my actual weight. My soul was lighter. I no longer was carrying the world on my shoulders – that responsibility was gone, along with the self-protection mode that came with it. Even to strangers, it was obvious I was happier. Truthfully, I didn't need the external validation, but it was nice.
The Caring Leadership Community
The Caring Leadership Community is a place for people to come and talk about their concerns. The community can support leaders no matter where they are on their journeys. The beauty is that it's not just a community – there's also a book, an assessment, and leadership coaches, like me, in the community interacting daily with you. Furthermore, the community is unlike anything I've been part of before because all viewpoints are accepted and appreciated. Additionally, as a community member, you have access to multiple leadership coaches and their opinions virtually 24/7. Also, it's free to sign up! The Art of Caring Leadership has created an ecosystem for companies, teams, and individuals who want human-centered leadership.
---
Mentions
Connect with Brian on LinkedIn
Subscribe, rate, and review the podcast on Apple Podcasts
Listen to the podcast on Spotify