Subscribe to the Leadership with Heart Podcast:
In this Leadership with Heart episode, Heather speaks with Kirsten Benefiel, CEO of HSS, a company focused on leading the next generation of innovative security managed devices. As a leader who strives to be authentic, Kirsten shows up, is vulnerable and listens more than she speaks.
Kirsten describes how aligning her life and leadership style with her personal values makes for a much easier leadership experience. She shows her compassion by explaining how a leader can never over communicate care for their team, whether it be via showing up, listening, or just trying to help.
Heather and Kirsten both elaborate on the importance values, purpose and mission play in the trajectory of both one's personal life, as well as their professional path. Oftentimes, the greatest rewards in leadership are the outcomes that a leader can affect by leading with purpose and their core values. To reach this level, Kirsten explains how she first had to focus on what her values were and what made her tick.
Kirsten shares a crucial experience in her leadership journey that taught her that success is not always about the outcome. It's about the journey too, because how you win also matters.
At the end of their conversation Kirsten offers a piece of heartfelt advice to anyone who is struggling, finding themselves at a crossroads or just in need of motivation.
Key Takeaways:
Define your personal core values.
Align your life with your values. You'll have a much easier time leading.
It's not always about the outcome, it's about the journey.
Don't be overshadowed by your ego.
Your values are a filter that shape decision making and your behavior.
Be your own critic.
Shift your mindset from scarcity to abundance.
Life is not a zero-sum game.
Expand your circle of influence.
Never operate from a place of fear.
Vulnerability is empowering.
Kirsten Benefiel is the Chief Executive Officer at HSS where her teams of managed service professionals use intellect, discretion and diplomacy to create safe, secure environments wherever they serve. She is a 25-year veteran in the information technology sector who connects the employees, customers, process and technology to scale and optimize business models, deliver bottom line results and build strong organizational culture.
Kirsten is a C-Level Leader with for-profit and non-profit Board of Directors experience, as well as a multi-discipline senior executive with success in building and leading world-class, high-tech managed service and solution businesses.
Kirsten also serves as the Board Chair of Urban Peak, a non-profit advocating youth empowerment for the youth who are homeless. She earned her Communications and Public Relations Bachelor's degree, and her MBA at the University of Denver. She was also a Fellow for Entrepreneurship and Government in the Colorado Governor's Fellow Program.
In Alignment
I think you are your most authentic version of yourself when you're leading and living your values. When those things are in alignment, my feet get up and hit the floor because I feel good and energized. When I feel like I'm living in alignment with my values, I have a much easier time leading.

The one thing you cannot over communicate in a situation like this, and what I'm most proud of during the last few months, is how much we tried as a leadership team to show up, listen and help. I've been impressed with our team's ability to come together.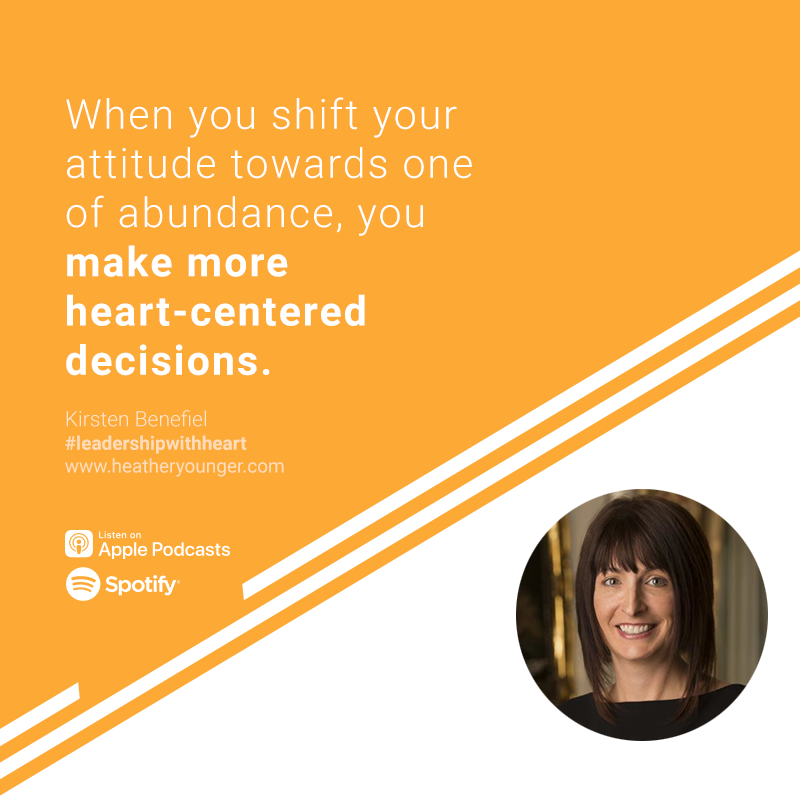 I truly try to show up to be vulnerable, to listen more than I speak, to hear what's going on, and to really live my values. - Kirsten Benefiel #leadershipwithheart
Click To Tweet
Purpose-driven, Value-driven
I really get my energy from being with the teammates. So, this lockdown basically has been hard for me to just get out, see what's going on, and listen. I've done a ton of Zoom calls and face time calls, but it's still not the same. It isn't the same.

If I look at my style, I consider myself to be a very purpose-driven and values-driven leader. For me, when I'm leading with purpose and making sure that one of my core values is integrity, when I have the chance to operate and lead from that perspective, I really enjoy the journey. I feel like my handprint is on the outcome, and I'm able to be a good steward of what the company is trying to achieve.

That drive to lead for me is really how can I show up in the best way possible for my teammates to accomplish an objective and a mission of purpose. HSS is such a mission-driven and a purpose-driven organization. For me, this is an incredibly exciting opportunity to be a part of. I felt like my leadership style and the company's core values were really well-aligned.

It's incredibly important as a leader that your values acts as a filter and that's how it shapes your decision making, behavior. That's why I really try to stay true to making sure that I keep checking myself along the way: Am I living in alignment? Am I showing up how I want to? I would never want to make a decision or demonstrated behavior that could lead the organization astray.
Leadership is a choice. Finding purpose is a choice. - Kirsten Benefiel #leadershipwithheart
Click To Tweet
The exciting work as a leader is to develop future leaders. - Kirsten Benefiel #leadershipwithheart
Click To Tweet
Always a Choice
Being a leader is a choice. I had to get really clear with myself as I made the decision to continue to talk to aspire for additional leadership positions, to really get clear on who I was as a person and why I was doing things. If you're not clear that shows through and how you show up every day.

It's a lot of work. I started it with really focusing in on what my values were and what made me tick. So, can you find that mission? Can you live in alignment with your values? I think the rest of it is a lot easier to accomplish and a lot more fun.

The exciting work as a leader is to develop future leaders. "What you commit to defines your life." Being committed to developing leaders has really shaped the journey for me and it has made it a lot more fun.
It's incredibly important as a leader that your values acts as a filter that shapes your decision making and behavior. - Kirsten Benefiel #leadershipwithheart
Click To Tweet
It's not always about the outcome. It's about the journey. - Kirsten Benefiel #leadershipwithheart
Click To Tweet
---
Mentions
Connect with Kirsten on LinkedIn
Subscribe, rate and review the podcast on Apple Podcasts
Listen to the podcast on Spotify