Subscribe to the Leadership with Heart Podcast:
In this episode, Heather talks directly with her listeners about what 2021 brought for her and her business. From turning 50, to sending her first child off to college, to all the accomplishments and challenges she faced in 2021 – she sits down to reflect and share her thoughts. Plus, she shares a bit of what is to come in 2022 for caring leadership. Take a listen.
Key Takeaways:
There is a lot to learn from 2021
Take some time to reflect on what you learned in 2021
Adversity leads to growth
Plan your goals for 2022
We learn the most from our biggest challenges
Not everything is what it seems online, take time to focus on yourself and your mental health
Heather R Younger is an experienced keynote speaker, two-time author, and the CEO and Founder of Employee Fanatix, a leading employee engagement, leadership development, and DEI consulting firm, where she is on a mission to help leaders understand the power they possess to ensure people feel valued at work.
Known as The Employee WhispererTM, Heather harnesses humor, warmth, and an instant relatability to engage and uplift audiences and inspire them into action.
Rooted in her belief that employees aren't just numbers on the payroll but human beings with ideas that matter, Heather's talks and workshops are dedicated to helping teams, leaders, and organizations shine by improving how they listen to, communicate with, and empower employees on their journey to Caring Leadership.
From 2019 to 2022
I think we all feel like we skipped from 2019 to 2022. It really went by so, so, so fast that it seems like a blur. Yet, I hope we don't fully forget everything that has happened. Actually, I'm hoping we remember each step. That's because I believe it'll make us that much better in the following years. What we experienced in the last few years was tough. But what comes from adversity and tough times are the greatest diamonds. So, let's not forget. Instead, let's remember each part and take the good of it all with us into 2022.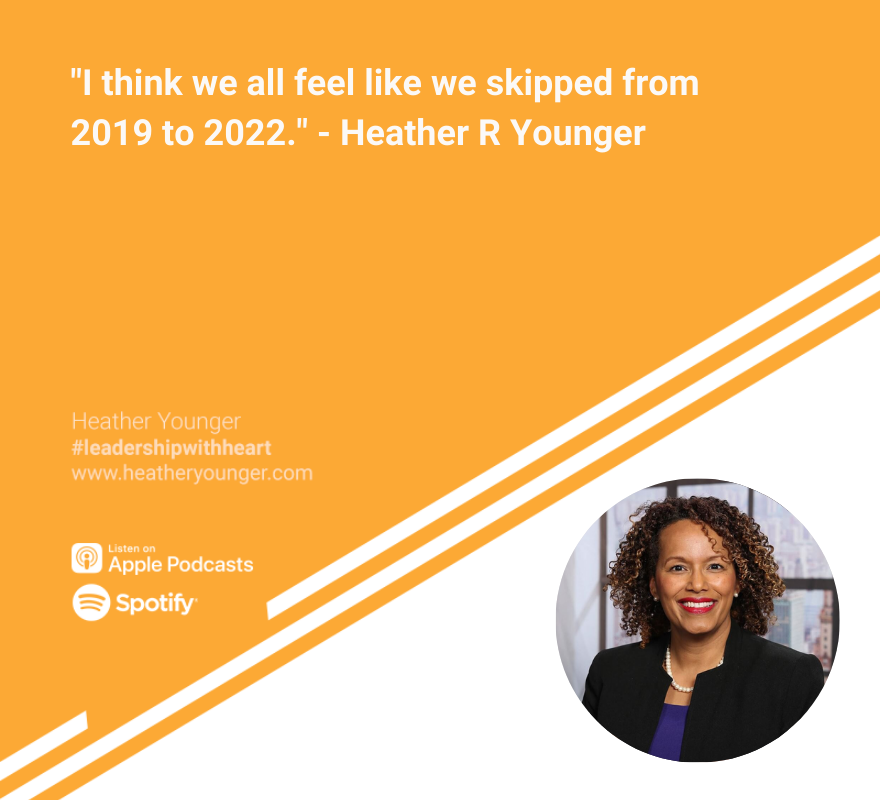 ---
Mentions
Connect with Heather on LinkedIn
Subscribe, rate, and review the podcast on Apple Podcasts
Listen to the podcast on Spotify