Subscribe to the Leadership with Heart Podcast:
In this episode, Heather interviews Dr. Kimberly Townsend, President and CEO of Loretto Management Corporation in Syracuse, NY. Dr. Townsend is an expert in the fields of healthcare management, board governance, and leadership. She is also the author of leadership books Lifecircle Leadership: How Exceptional People Make Every Day Extraordinary and Lessons in Lifecircle Leadership: A Guide to Pragmatic Altruism. Finally, in this podcast, you'll hear all about what Dr. Townsend and her company are doing to help their current staff and ensure that the generations after them are economically secure. Dr. Townsend gives hope.
Key Takeaways: 
Doing good is good for business
Pragmatic altruism works parallel with Leadership with Heart
Organizations should involve love in their company cultures
Non-profits and for profit businesses can help their people more than they know
Kimberly Townsend, MBA, MPA, JD, Ed.D, CPA, GPHR, joined the board of Loretto Management Corporation in Syracuse, NY in 2011 and was named President and CEO in 2014. Before that, Dr. Townsend spent 13 years at Welch Allyn, a medical devices and software company, working her way from Attorney to Associate General Counsel to Senior Director of Government Affairs. Previous work includes positions at PricewaterhouseCoopers LLP and Ernst & Young LLP.
Dr. Townsend earned a Bachelor in Business Administration, a Masters of Business Administration, a Juris Doctorate, and an Executive Masters of Public Administration from Syracuse University and a Doctorate in Executive Leadership from St. John Fisher College in Rochester, NY. Other professional development includes Measurement, Design and Analysis Methods for Health Outcomes Research and Leadership Strategies for Evolving Healthcare Executives, both at the Harvard School of Public Health.
In addition to being an attorney admitted to the New York, New Jersey, and Washington, D.C. Bars, Dr. Townsend is a Certified Public Accountant and is SHRM-certified in Global Professional Human Resources. She was Adjunct Professor at Syracuse University from 2001-2011, and was the recipient of the 2010 President's Award-Customer First at Welch Allyn, Inc.
Lastly, Dr. Townsend is a prolific speaker and writer whose work has been published in industry journals and business publications.
Being the Change
At our organization, we look a lot at Maslow's hierarchy of needs to see how we can meet people's basic needs with our programs. For example, one of the programs that we have is a diaper bank program so every month we give out 16,000 diapers or pull-ups to our employees who are parents. Actually, about 50% of the people in the program are actually grandparents raising their grandchildren. We also have a fund that helps people when they have an emergency come up in their life. Plus, we have a car buying program and we offer free urgent care at all of our major sites to our employees. At the end of the day what we're passionate about is really helping people move forward in their lives. We actually have the first federally registered LPN apprenticeship program in the United States. We're now on our third cohort of people who have gone from making $15 an hour to making $30 or more an hour in just 10 months. Above all, it's so important to take a multi-generational approach to help our employees.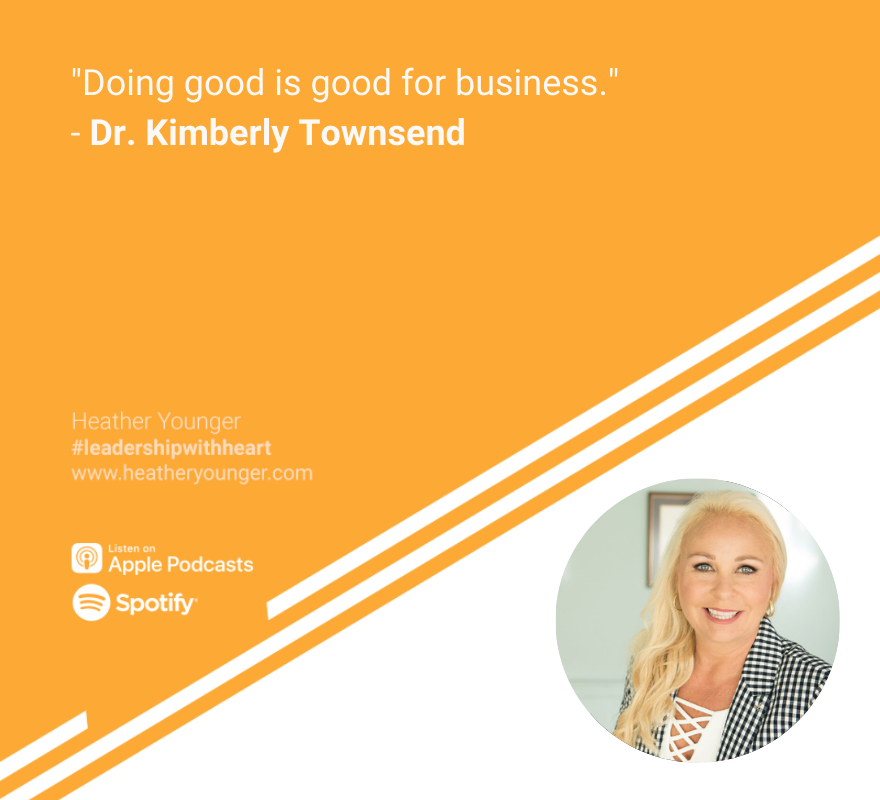 We have to meet our employees' needs so that they can better serve the people they're caring for. - Dr. Kimberly Townsend #leadershipwithheart Click To Tweet
---
About Loretto Management Corporation
Loretto Management Corporation is a non-profit, post-acute healthcare system with assets in skilled nursing, housing, managed care, short-term rehabilitation and medical adult day services. It serves 10,000 older adults throughout Central New York. It is the 4th largest health system in Central New York, with 2,500 employees at 19 sites and $200 million in revenue in 2018.
Loretto was founded in 1926 as the first Diocesan home for the aged in North America and continues to address the needs of older adults in the community, the majority of whom (70%) are Medicaid eligible. It provides skilled nursing, assisted living and affordable housing, home health, rehabilitation, PACE, and many other specialized programs.
Lastly, Dr. Townsend believes that Loretto has a mission to serve both the people in the community who need Loretto's services and the employees of the company, 65% of whom are single, women of color, and head of households living in highly impoverished neighborhoods.
Mentions
Connect with Dr. Townsend on LinkedIn
Subscribe, rate, and review the podcast on Apple Podcasts
Listen to the podcast on Spotify