Subscribe to the Leadership with Heart Podcast:
In this episode, Heather sits down with Whiting Dimock, her long-time friend, and former law school classmate. Whiting started her career in a big law firm, where she spent a few years before transitioning into a corporate setting. During that time, she worked for a commercial real estate company and eventually switched to work on the people side of the law business. After some years, she moved back to Boulder, CO to work as the dean of students, where she is currently. She's now preparing to transition out of her current role to start a law firm with her partner in January.
Key Takeaways:
Her motivation to lead comes from the desire to help people
It's critical to speak up when you don't think something is right
Taking on too much will eventually lead to being unable to deliver
Leaders need to be held accountable for their actions
The law culture is very demanding of its people
Whiting Dimock has served as the senior assistant dean of students at the University of Colorado Law School since 2010. In this role, Whiting has worked to support students as they navigate the law school experience and transition to the legal profession. She works with students and colleagues on efforts to maximize student success and retention, with a particular focus on supporting students from backgrounds that are historically underrepresented in the legal profession. Examples of this work include service on the admissions committee to ensure that the holistic review of applications considers structural barriers to entry into the legal profession, coordination with support resources for students facing mental health, economic, and other challenges, and advising and support as students transition to the legal profession through applying for admission to practice law and preparing for the bar exam. Whiting worked with students and campus leadership to place a full-time psychologist on-site at the law school to help enable free, confidential access to counseling for law students.
Before serving as dean of students, Whiting practiced law and worked in management at large law firms and a commercial real estate company in Washington, D.C. She also served as a career transition advisor for lawyers. Her experience includes recruiting, integrating, training, coaching, evaluating, mentoring, advising, and facilitating departures of personnel. Whiting earned her law degree from the University of Colorado Law School and her bachelor's degree from Williams College.
In January 2022, Whiting is leaving the University of Colorado to return to practicing law. She and her partner Glen Matthews are founding a law firm, Dimock Matthews LLC, to assist individuals facing divorce, DUI charges, and other challenging circumstances.
Wearing Ourselves Down
We have such a "no pain, no gain" mentality and nonstop pressure to push ourselves. This mentality is so common amongst us in law. Many think that it's the only way to succeed. The legal profession rewards that type of mentality so much that we've gotten to a point where we idolize it. I've noticed that the times when I feel not the best about how I'm showing up is when I have really overworked myself. I've had to learn how to distinguish between individual employee problems versus systemic problems. Before, I would blame myself or the systems in place when something didn't go right. That was taking a toll on me mentally, so learning how to distinguish has been life-changing. I'm kind of shifting back to basics right now. Taking more time to take care of myself and what I'm focused on. I'm learning how to train myself to understand what my needs are.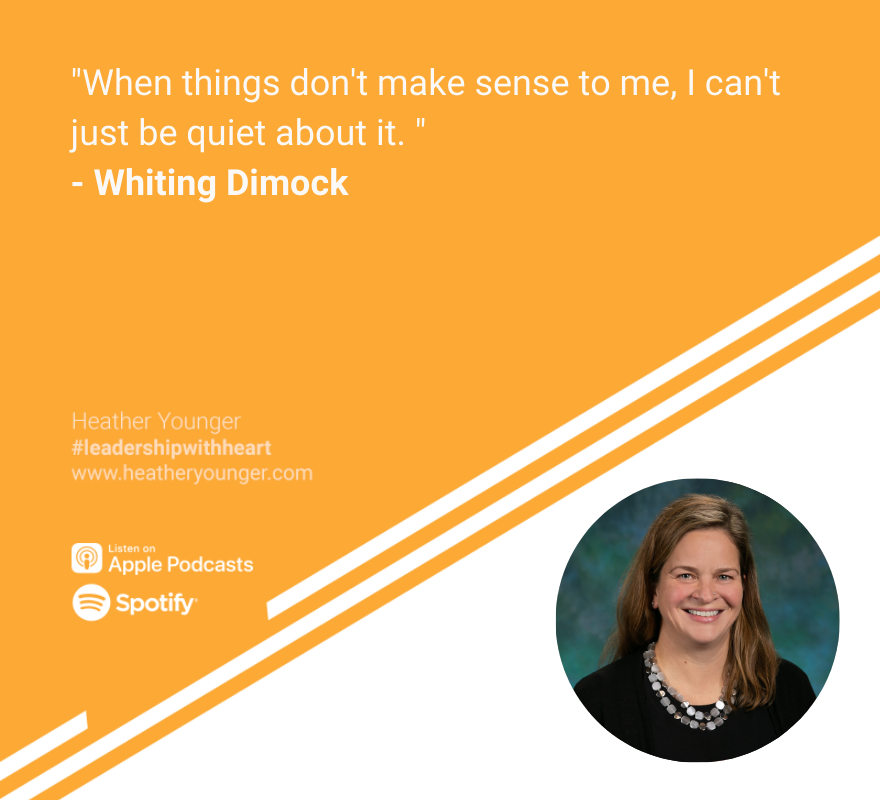 ---
Mentions
Connect with Whiting on LinkedIn
Subscribe, rate, and review the podcast on Apple Podcasts
Listen to the podcast on Spotify